WHAT ROCK ARE YOU LIVING ON? (Part 2 of a Series)
WHAT ROCK ARE YOU LIVING ON?
(Part 2 of a Series)
By Frank Waksmunski
The Times News, Copyright 2004.
May 4, 2004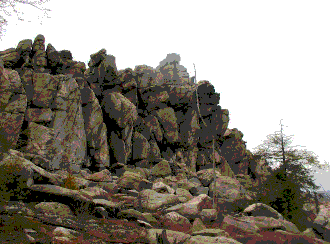 In Part 1 of this Series, I wrote a little about how rock formations can affect groundwater.
Now, I'd like to write about the different geologic formations. No, this isn't going to be a boring, technical article. I'm not a geologist and this article will not be absolutely accurate. But I'd like to give you an approximate location of the different formations we drill our wells into. It explains why the quality of groundwater can change so quickly from place to place.
Let's start in northwestern Carbon County. There are two formations called Coal Measures and Pottsville Conglomerate. One stretches through Tresckow and Beaver Meadows. A fingerlike projection almost reaches Rockport. Another stretches through Lansford, Nesquehoning, and Summit Hill.
Both of these formations are surrounded by Mauch Chunk Red Shale, which stretches into parts of Kidder and Penn Forest Township in the north and through Jim Thorpe and across the Lehigh River in the south.
Between the shale in the coal regions is a formation called Pocono Sandstone, which stretches east from the Schuylkill border into Kidder and Penn Forest. It includes the Broad and Pohopoco Mountains. It then wraps around the Jim Thorpe shale and heads west back to Schuylkill County, forming the Mauch Chunk Mountain.
Kidder and Penn Forest are comprised mainly of three formations. The centers of these townships are primarily Pocono Sandstone with stubby projections of Mauch Chunk Red Shale on the west. On the east, there is a large area of Catskill Rocks, which swing down to the Schuylkill border just below the Pocono Sandstone. This formation runs in an almost straight line from about the top of Wild Creek Reservoir to New Mahoning. This would probably pass through Packerton, just north of Lehighton.
So far I've mentioned five formations. From this point south, formations get very interesting. The smallest third of the county has the largest diversity.
Most of these formations cut across the county from northeast to southwest, paralleling the Blue Mountain. Some are very narrow, being just 1000 feet wide in places. The best way to describe them is to just list them, from north to south.
They are Chemung, Genesee, Hamilton, back to Genesee, back to Chemung (which contains large pockets of Catskill Rock,) back to Genesee, back to Hamilton, Marcellus, Oriskany Sandstone, Lower Helderberg Limestone and Clinton Red Shale. We are now at the Blue Mountain that is made of two formations, the Medina and Oneida Sandstones.
The Lehigh Water Gap is said to be one of the finest rock exhibitions in the state. A drive on Rte. 443 South will give you an awesome picture, like a Kodak Moment. As you approach Palmerton, look to the right at the Blue Mountain. The bare parts are where the current grass planting by plane project is being conducted by the Wildlife Information Center.
Now look straight ahead at the red hill with the white house on top. This is the same red rock that was quarried in a different location to build the Court House in Jim Thorpe.
As you pass this red rock, notice how quickly the rocks change color. Perhaps this is better seen on your return trip. The different formations are very clear.
When you do return through the gap, look straight ahead to the top of the ridge. You will see a line of boulders stacked up to form the Stony Ridge. This is an amazing formation of rocks that stretches almost across the entire county.
To get a better look at them, drive Delaware Avenue through Palmerton to Forest Inn Road. Just outside of town, turn right onto Stony Ridge Road. Don't forget to bring your camera.
Information for this article, including a geologic map was obtained at
http://www.libraries.psu.edu/emsl/guides/X/carbon.htm
The Stony Ridge as seen off Stony Ridge Rd., Lower Towamensing Township.
Part 3 of this series will explain pH of water and how it relates to geology.
We would like to hear your comments, questions or ideas for future articles. The Carbon County Groundwater Guardians is a 501(c)(3) nonprofit, volunteer organization. For more information or to get involved, call (570) 645-8597, e- mail info[at]carbonwaters.org