2004.10.05 – RESIDENTS SUBMIT TO MERCURY TESTS
RESIDENTS SUBMIT TO MERCURY TESTS: Dozens show up at Tamaqua barber shop to give hair samples.
By Chris Parker
The Morning Call Inc., Copyright © 2004
Reprinted With Permission
October 5, 2004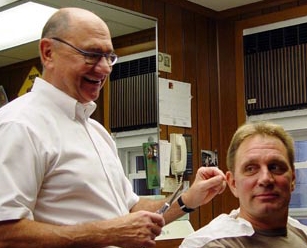 Barber Al Barnisky prepares to take a snippet of hair from Tamaqua resident Jim Major. Major was one of two dozen who showed up Monday to take part in a study to determine mercury levels among local residents.
In the midst of concerns that pollution from nearby industrial sites is causing cancer and other illness in the Tamaqua area, two dozen residents crowded a borough barbershop Monday to donate hair samples to be tested for mercury.
The hair samples will be sent to the University of North Carolina-Asheville for a study being conducted by Greenpeace, the 33-year-old international environmental advocacy group.
The hair donations were coordinated by the Army for a Clean Environment, a local organization that was formed to combat plans by a Pottsville coal company to fill a massive mine pit with a mix of fly ash, kiln dust and river dredge.
Donors gathered at Al Barnisky's barber shop on Broad Street to have their locks clipped. Only a pinch of hair is needed for testing.
Merle Wertman of Tamaqua filled out a short form before settling into the barber's chair in the tiny shop.
The visit was important to Wertman, who said he was diagnosed in January with polycythemia vera, a rare bone marrow disease, which strikes one out of every 200,000 people, according to government statistics.
It is the same disease that several residents of Ben Titus Road in Quakake say they have. They believe their illness was caused by chemicals from a former Superfund cleanup site a few miles away.
Wertman suspects pollution caused his illness, but donated his hair to find out for sure.
He has lived in Tamaqua 37 years, and said he was prompted to participate in the study after reading newspaper articles about others who say they have the disease.
"They aren't the only people who have it," he said. "I have it and that's why I'm participating in this program."
Barnisky snipped a small lock of Wertman's hair, and Dante Picciano, who heads the Army for a Clean Environment, weighed it.
The study aims to discover how many people have been exposed to mercury, a poisonous heavy metal.
According to the federal Environmental Protection Agency, coal-fired power plants in America are the biggest source of mercury emissions.
"The No. 1 source appears to be the coal-burning facilities, and we're just loaded with them," Picciano said. "That's why Greenpeace was willing to work with us to do this."
According to an Army for a Clean Environment press release, Greenpeace is studying 10,000 people, part of its global Clean Energy Now! campaign, in response to the Bush administration's proposal to weaken a previous decision that would have reduced mercury emissions from power plants 90 percent by 2008.
The state Department of Environmental Protection in an Oct. 1 press release called proposed federal efforts to reduce mercury "unfair" and said they would put the state at an "economic disadvantage."
DEP Secretary Kathleen A. McGinty has requested a meeting with U.S. Environmental Protection Agency administrator Michael O. Leavitt to discuss the proposed mercury reduction rule.