2006.01.10 – Why so many cancer cases?
http://www.tnonline.com/apps/pbcs.dll/article?AID=/20060110/TN_NEWS/101100003
By DONALD R. SERFASS
dserfass@tnonline.com
2006.01.10
DONALD R. SERFASS/TIMES NEWS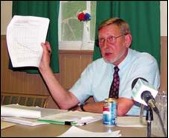 Frank Waksmumski, Carbon County Groundwater Guardians, was first to publicly blow the whistle on what his group says is an alarming incidence of rare cancers in the Rush Twp. area. Here, Waksmumski asks the state for answers during a public forum held at Quakake Fire Co. in June 2004.
.
.

Eighteen months after the questions were first asked, the state's answer will be revealed.
The Department of Health will present results of a recently-completed study that looked at the incidence of health and cancer in Rush Township, including the Still Creek Reservoir area.
The results will be announced on Wednesday, Jan. 18, at 7 p.m. inside Hometown Fire Co., Route 54, Rush Township.
The study was requested by State Rep. David G. Argall after several meetings and discussions with area residents and groups.
The trouble was first uncovered almost three years ago when an environmental group in Carbon County started asking questions about the large number of cancer cases in the local area. The Carbon County Groundwater Guardians' investigation uncovered numerous cases of polycythemia vera along Ben Titus Rd. in Rush Township.
As a result, the Guardians organized a public forum and news conference on June 2, 2004, at Quakake Fire Co. There, the media and fifty local residents gathered and learned about the scope of the problem, something they said, appeared to be the tip of a very large iceberg.
"Everyone knows that when we're exposed to something, it may take years for cancer to show itself," said Frank Waksmunski of the Guardians.
SInce then, it's become apparent that cases of bone cancer and other illnesses are popping up along Ben Titus Road.
The residential area is situated downhill from McAdoo Associates, a former mining area where illegal dumping of hazardous waste has created a toxic Superfund site.
Blood tests indicated that several local patients are suffering from polycythemia vera, a rare and acquired bone marrow cancer. According to medical experts, the illness can be otherwise found in those exposed to benzene, or perhaps morticians exposed to embalming fluid, but not normally found in the general population.
Much concern was expressed over the state and federal government's inability to protect local residents.
The high incidence of cancer and the high death rates troubled Waksmunski, who said he feared that something might be drastically wrong. Such statistics should be declining, not increasing, he said.
"Medicine is getting better. People live long today with cancer."
Argall urged affected residents to step forward.
"If you have additional info, if you know of people, we need to know. Is this is an early warning sign of a serious health concern or is it something else? We'll continue to pursue the specialists until we get the answers," said Argall.
Coming to the forefront to help with his own investigation has been Dr. Peter Baddick, a local native. Baddick compiled medical data according to municipality. Also participating in the survey was nurse Cathy Miorelli. Baddick told those gathered at the press conference that the health problem could be serious.
"There were 10 cases of fatal leukemia within a few miles of Walt's Drive In at the corner," he said. "Rush Township is a toxic time bomb. You may have one of the highest cancer rates on the planet."
Baddick also has been in consultation with Dr. Dante Picciano of the 1,000-member Army for a Clean Environment. The group is based in the Tamaqua/Panther Valley area.
Ben Titus Road is located within a few miles from three Superfund sites – McAdoo Associates, Eastern Diversified Metals and Tonolli Mfg. The three locations were contaminated despite regulations and oversight by the state Dept. of Environmental Protection.
Adjacent to Ben Titus Road is Still Creek Reservoir, a surface water supply that serves residents of Tamaqua and nearby areas. While the Tamaqua water is filtered, some fear that basic filtering is not adequate. They say basic filtering cannot uncover the many different potential toxins from the Superfund site that may be contained in the water, which, many say, feeds into the reservoir. Others, however, disagree about the flow of the aquifer.
In one year alone, there were 70,000 new cases of cancer in Pennsylvania, an increase higher than the national average.
A Department of Health spokesperson indicated two years ago that, when it comes to cancer, a cause and effect relationship would be difficult to prove, even after a study is conducted.
Critics fault the state for failing to be pro-active in protecting residents and say the state does not want to admit there's a problem.
The session on Wednesday, Jan. 18, will be open to the public.
Those unable to attend may request a copy of any of the handouts or reports provided by the state by contacting the Tamaqua office of Rep. Argall.