2008.08.26 – Polycythemia vera – how bad is it?
http://www.tnonline.com/node/352220
August 26, 2008
Polycythemia vera – how bad is it?
33 cases confirmed, actual figure could be high as 100
By DONALD R. SERFASS dserfass@tnonline.com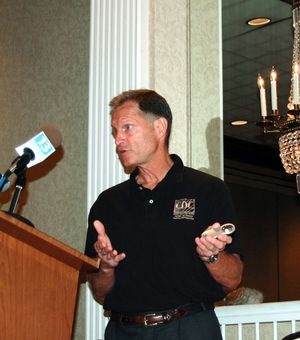 DONALD R. SERFASS/TIMES NEWS "We have more than enough (polycythemia cases) to establish statistical significance," says Dr. Vince Seaman of the federal Agency for Toxic Substances and Disease Registry. Addressing a sizable crowd at Monday's public meeting, Seaman said the number of Superfund sites in the Tamaqua-Panther Valley area "merits looking for a correlation" between the existence of the sites and the number of confirmed PV cases.
HAZLETON There are 33 confirmed cases of a rare blood disorder in our local area but the real figure could be three times higher.
"Sixty-six out of the 97 cases reported to us were not interviewed. Fifteen had died, 11 declined to be interviewed, 28 could not be located, seven were late additions and 12 lacked adequate data," said Dr. Vince Seaman on Monday at a public meeting held on the outskirts of this city.
Still, the number of confirmed cases warrants further study, he said.
"We have more than enough to establish statistical significance."
The disease is polycythemia vera (PV). It is a rare illness that causes the body to produce too many red blood cells. Scientists and doctors are now using a recently discovered biomarker, or mutation, called JAK2, to confirm the disease.
Seaman spent about 30 minutes telling some 100 in attendance that a few years ago the Agency for Toxic Substances and Disease Registry (ATSDR), "took all of the medical cases in the cancer registry from 2001-2005 and distributed a questionnaire."
That was just the beginning of an intensive investigation, he said, that looked for common elements such as a common occupation. However, the investigation was not looking for a cause at that point in time. Instead, it was designed to count the number of PV cases in the area, verify the diagnosis, and look for common characteristics among the cases.
He lauded the assistance and expertise of community members including Dr. Paul Roda, Hazleton; Hometown environmentalist and health advocate Joe Murphy; West Penn resident Cathy Miorelli, a health advocate who happens to be a member of Tamaqua Borough Council and school nurse in the Tamaqua Area School District; pro-health activist and environmentalist Dr. Peter Baddick of West Penn Township; and PV patient Betty Kester of Ben Titus Road, Rush Township, whose husband, Lester Barney Kester, also afflicted with PV, died in January.
Despite all the hard work, the confirmed cases in the Tamaqua-Panther Valley and lower Luzerne area shared no common jobs, ancestry, lifestyle choices or exposures, Seaman said.
Seaman pointed out, however, that some of the high risk areas like the Tamaqua-Panther Valley region and its "significant cluster of PV cases" have potential environmental sources in common such as Superfund sites.
The ATSDR and members of the PA Department of Health hosted a roundtable of experts early Monday in Philadelphia to identify research priorities. Timely reporting continues to be an issue. The DOH will continue to monitor PV occurrences in the state while the Centers for Disease Control and Prevention continues to evaluate state and national registry reporting systems for PV cases.
One glimmer of hope, according to presenter Dr. Stephen Ostroff of the Department of Health, is that the number of PV cases appears to be on the decline.
"It seems to be decreasing," he announced, citing statistics over a four-year period.
Emphasizing the thoroughness of efforts, Seaman said the U. S. Environmental Protection Agency and the state Department of Environmental Protection examined the PV issue by looking at landfills, ground water contamination, water pollution, hazardous waste sites, drinking water sources, air pollution and mining operations.
More information on the PV investigation is available at: http://www.atsdr.cdc.gov/sites/polycythemia_vera/