2009.07.10 -What is causing sickness?
http://www.tnonline.com/node/462473
July 10, 2009
What is causing sickness?
$5.5 million in federal funds will study rare blood disorder
By DONALD R. SERFASS dserfass@tnonline.com
DONALD R. SERFASS/TIMES NEWS A panel of experts discusses details Thursday of over $5 million in federal funding that will be used to try to get to the bottom of a tri-county cancer cluster, from left: Dr. Kenneth Orloff, ATSDR toxicologist; Bob Lewis, Pa. Department of Environmental Protection; Arthur Frank, medical researcher, Drexel University; and Vince Seaman, ATSDR toxicologist.
Over $5 million in federal dollars will try to find answers to a local problem, which experts say is unique in the country.
Area residents are developing a rare blood disease and other cancers at an abnormal rate.
One medical condition in particular polycythemia vera (PV) is being found with alarming frequency. PV is characterized by a thickening of the blood and related complications. Statistically, it is found in one or two people per 100,000 population.
But in one local neighborhood, multiple cases were found along one single street, including two cases in the same household. So far, the issue has stymied experts. Does the problem stem from environmental contamination at the nearby McAdoo Associates Superfund site? Or is it from radiation in the water or maybe from human contact with formaldehyde used in foam insulation in homes? Or is radon the culprit?
All of those possibilities were suggested Thursday during the public health forum held inside the Tamaqua Area Auditorium.
The meeting was conducted by the Agency for Toxic Substances and Disease Registry (ATSDR) and included members of the Pa. Department of Health (PADOH) and researchers from Drexel University.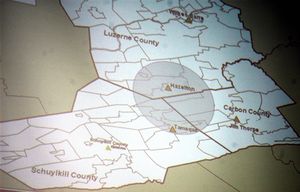 Federal officials acknowledge that a tri-county area is host to a significant number of cases of a rare blood disorder, specifically portions of Schuylkill, Carbon and Luzerne counties.
While much of the discussion focused on how $5.49 million in federal Environmental Health Activities Funding will be appropriated to look into the issue, there was much speculation put forth as to the cause of PV.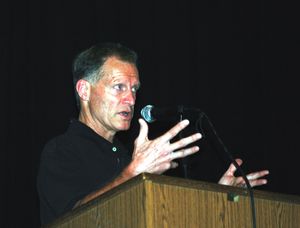 DONALD R. SERFASS/TIMES NEWS Dr. Vince Seaman, ATSDR toxicologist, addresses the crowd regarding the disproportionate polycythemia vera cluster in the tri-county area during Thursday's public health forum at the Tamaqua Area School District Auditorium.
"We did find a statistically significant number of cases of PV in this particular area," affirmed Vince Seaman, ATSDR toxicologist, as he addressed 100 area residents attending the forum.
Seaman said cases of PV can be found all across the country and even worldwide. But the higher number of cases in Luzerne, Schuylkill and Carbon counties appears in what Seamen called a general, or "fuzzy," geographic pattern. Ken Orloff, another ATSDR toxicologist, confirmed that a cluster of the illness appears "between Tamaqua and Hazleton."
The experts said there will be a multipronged program to address the situation, including a $449,000 study by Drexel University to investigate the cluster and work with the PADOH to help identify risk factors.
The study will look at environmental exposures, hereditary factors such as the acquired JAK2 blood marker which is found in most PV patients, and other factors and biomarkers.
Also, initiatives that either have been done or will be done include: environmental exposure assessments, seasonal water outflow patterns at the McAdoo site, and testing target residences for air, water and soil contamination and radiation exposure.
"At this time there is no recognized cause for PV," said Dr. Arthur Frank, Drexel University professor of public health. However, Frank said exposure to benzene and radiation are known related factors.
Frank said a case control study would begin with people who have PV, with results compared to those who don't have it. Geisinger Health System will be a partner in the study, he noted.
Bob Lewis of the Pa. Department of Environmental Protection told attendees that he's been involved with the issue since 2004 when Frank Waksmunski of the Carbon County Groundwater Guardians alerted him to the situation. Lewis said a McAdoo Outflow Study took place May 26 and May 27, along with a look at surface water drainage at Still Creek Reservoir and at the headwaters of the Little Schuylkill River and Lofty Creek.
It was noted that the local Citizens Action Committee a group which will become more formalized will represent the community as the above-mentioned activities unfold and will discuss issues with the ATSDR and PADOH on behalf of local residents.
At the session, residents were encouraged to write their questions on index cards, which were then read aloud and answered by the panel of experts.
Many of those questions focused on suspected environmental causes, particularly the McAdoo Superfund site.