2009.05.02 – Specter delivers $5.5M for cancer research
http://www.timesleader.com/
Posted: May 2
Updated: Today at 3:14 AM
Specter delivers $5.5M for cancer research
Federal cash to aid probe into blood disorder in tri-county region near Hazleton.
By Rory Sweeneyrsweeney@timesleader.com
Staff Writer
SUGARLOAF TWP. – The nearly $5.5 million that U.S. Sen. Arlen Specter brought with him on Friday for cancer research was appreciated by those in attendance at the Penn State Hazleton campus, but patients within the cancer cluster hoped for a more expedient response.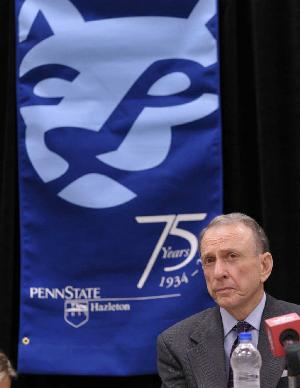 Sen. Arlen Specter announces Congress approved $5.5 million to study cancer clusters in the Carbon-Luzerne-Schuylkill region.
Though he expressed sadness for victims of blood cancer who have died and urged optimism for those battling it, Specter said, "I'm here to provide more than hope. I'm here to provide cash" and the support and resources of federal agencies.
The money arrived about five years after some residents realized they were suffering the same symptoms and began to publicly demand answers. The symptoms, which included enflamed livers and spleens, abdominal pains, hives and joint pains, pointed to polycythemia vera, or PV, a rare blood cancer in which the bone marrow makes too many red blood cells, thus causing an over-thickening of the blood.
Dr. Vince Seaman, an epidemiologist with the national Centers for Disease Control who spoke via speakerphone, said 38 cases have been verified in Carbon, Luzerne and Schuylkill counties, including at least three deaths. But, he added, "that's quite a conservative number" because many of the people who might have been exposed have left the area.
Beginning his campaign trail early, Specter, D-Philadelphia, noted it was his senior position on the Senate Appropriations Committee that allowed him to shepherd the money through the 2009 Omnibus Appropriations legislation.
The money will fund a variety of studies and projects to identify what caused the regional outbreak of PV, including biomarkers to look for, patterns, past and present environmental conditions to find potential points of exposure, and examinations of victims, Seaman said.
The CDC will farm out much of its $5 million contract to local health organizations and state agencies, Seaman said, because they "can best do that work."
The rest – $499,000 – will go to Drexel University's School of Public Health in Philadelphia for studies on the disease.
Specter, who shares an understanding of cancer as a survivor of Hodgkin's lymphoma, pressed Seaman on a timetable, noting that the residents were "anxious to hear from you."
Seaman said grants were being drawn up and hoped to begin work in June.
Victims, however, were looking for immediate answers about what can be done for them now and what they should be doing. Larry Levin, an attorney representing several of the patients, asked if any of the money could be funneled to pay expenses for the victims, a proposal that Specter said he would look into.
Debbie Trentley, who has dealt with the disorder since around 2002, wanted information more than money. The 53-year-old had heard that her life expectancy was 10 years after diagnosis and more recently that she wouldn't live past 60, but she continues to work hard to support a grandson.
She asked if she should be resting. "Am I taking years off those 10 years?" she asked. "When I first got this, it was kind of brushed under the rug for me. … I want to know where it came from. … They're making so light of it, it annoys me. … I just want to live a couple more years."
Drawing from his own experiences, Specter urged her, "When they tell you what your life expectancy is, don't give in."
When she replied that she was "a fighter," the senator said, "Well then, you don't need to read my book ('Never Give In: Battling Cancer in the Senate')."