When people think of renewable energy, their first thought is typically solar power or wind energy. In Pennsylvania, the most natural and renewable energy system available to meet the heating and cooling needs for residential, commercial and recreational needs is a geothermal or a ground-source heating and cooling system. These systems come with a variety of configurations and a single system can heat or cool a home without natural gas, coal, oil or biomass. However, some electric is required to run the system.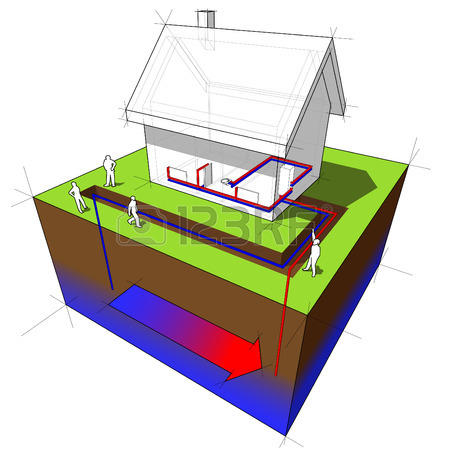 This relatively obscure technology is robust, proven and available now to those willing to understand the simple beauty of these systems.
A geothermal system moves and stores energy rather than producing energy through combustion or resistance. Geothermal systems work by exchanging hot or cold air from the home with the stable stored energy in the ground, rather than by converting chemical energy to heat. This is a renewable energy system that is very efficient and has enough flexibility to fit a variety of applications. Some added benefit in addition efficiency is that geothermal energy creates no pollution to our air or water and other than electricity, they eliminate the need to purchase highly processed petrochemical fuel from less than environmentally conscious producers.
While the air temperature in Pennsylvania can vary from -20 degrees Fahrenheit in the coldest part of winter to over 100 degrees Fahrenheit in the summer, the Earth's temperature a few feet under the surface is essentially the same in winter and summer. In the winter, the system can heat a home using the Earth's relatively warm core energy. In the summer, the same system can cool the home with the Earth's relatively cool mass. Year-round, geothermal systems can produce hot water. Geothermal heat pumps have an efficiency of over 300 to 500 percent (meaning they get a payback of 3 to 5 times the energy used to run the system). This efficiency provides the heating/cooling needs at a cost that is 30 to 70 percent less expensive than conventional energy systems, without combustion, carbon dioxide, methane, water pollution or the waste generated by other energy systems.
Geothermal ground-source heating and cooling systems work during the night when the sun is blocked by clouds and when the wind is not blowing. While electricity costs may vary, geothermal costs don't fluctuate like natural firewood, gas, coal and heating oil. The ground-source system comes in a variety of configurations to easily fit new home construction or homes with a more conventional, existing duct-based heating and cooling systems.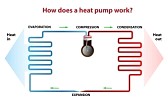 The geothermal system has three main components: connection to the Earth, delivery and distribution system and a geothermal heat pump. The Earth connection allows the system to pull or store heat in the Earth. In heating mode, the system uses the Earth connection to pull a small quantity of heat from the Earth to heat a person's space. In cooling mode, the system does the reverse and transfers heat from the air back to the Earth.
The distribution system can be a series of vertical connections or loops buried in the ground that transfer and help to distribute the energy. The geothermal heat pump is very efficient energy transfer system that moves the energy from the building to the transfer fluid.
The system does require an electrical source to run the heat pumps and circulation system and it is critical that an existing home have a formal energy audit done prior to installing a system. New construction should use green building and energy efficient insulating systems so the system can be properly sized. The Residential Energy-Efficient Property Credit provides a 30 percent tax credit toward the cost of alternative energy equipment installed on or in a home or business. With these credits, payback on installation is about 10 years+.
Pennsylvania residents could benefit from lower energy costs, elimination of water and air pollution and a significant reduction of the expensive and environmentally destructive infrastructure of fossil fuels by adapting geothermal systems as soon as possible.
To learn more about geothermal energy, visit the Keystone Clean Water Team at CarbonWaters.org or Duane Moyer Well Drilling at MoyerWellDrilling.com.
Article published in the April Addition of  Natural Awakenings Magazine
We exist to promote Natural Living in the communities that we serve. Visit HealthyLehighValley.com for online news, events, articles, archives, resources, contests and more information. To sign-up for our newsletter simply reply to this email.
Everything we do began with an idea.
We have offered "Free" Assistance to this effort, but if you are a private well owner that needs assistance we are happy to help.
We realize your time is precious and the world is hectic. CCGG's volunteers do only what they're comfortable with. It can be a little or a lot.  Get YOUR WATER Tested – Discounted Screening Tests !
For more information, please go to CCGG's About Page or contact us.  Follow us on Twitter 
Keystone Clean Water Team is a 501(c)(3) IRS approved nonprofit, volunteer organization and your donation is tax deductible to the extent allowed by law.    Unsolicited donations are appreciated (Helps us complete our mission), but we also do local educational workshops and local cellphone/small electronic recycling programs. If you would like to set up a program to help recycle cellphones at an event, business, or other organization.  Through our program we can recycle  cell phones, iPods, game systems, and small digital cameras.  If your interested, please contact us.  Our new PSAs.
Help the Organization and Get Your Water Tested or Order the Private Well Owner Guide (proceeds benefit This Organization).  Keystone Clean Water Team!
We have been in this heated discussion over the use of fossil fuels and natural gas and the need to switch to renewable energy options.    The main problem with the individuals leading this decision is that the approach is wrong.   We need to first talk about energy conservation.   We waste nearly 58% of the energy that we produce.  Now, I agree much of this energy is lot in the form of heat, but it is still energy that we should be able a way to figure out how best to use.  To some individuals this may seem like a relatively ok number, but I will put it another way we produce enough energy in the United States to power 2 Countries.  Is it sinking in yet?
What we need
1. Taking a very hard look at energy efficient and using energy wisely.  In the home, get a home energy audit.  If you are looking for a business or career, start an energy audit or weatherization business or green building design/analyst.
2. Stop wasting energy – purchase energy efficient products "Energy Star" etc and unplug items when not in use.
3. Do a self energy audit and maybe
a. Change to More Efficient Light Bulbs
b. Install a programmable Thermostat
c. Install Ceiling Fans
d. Maximize the use of landscaping.
e. Use a Microwave over an oven
f. Clean Filters
g. Clean Ducts and Fix Leaks
h. Insulate / Seal Window
i. Conserve Water
4. All energy solutions should be on the table, but if you can afford -you may want to consider the use of a ground source heating and cooling system, biomass (switchgrass, waste wood, pellet stoves, outdoor wood stoves)on-demand hotwater heater, and maybe solar water heating system.
5. Other options are also available that may work for you and your family.  Look at the options from your energy supplier.
We all need to be part of the solution !
Recent Presentation to Teens In the Wilkes Barre Area.
Sponsor – Renewable Energy Products and Information
Note:  Carbon County Groundwater Guardians is not for or against natural gas drilling. We are for the facts, making good decisions, and helping to inform the public on all sides of this issue.
Volunteer
We seek new people at all skill levels for a variety of programs. One thing that everyone can do is attend meetings to share ideas on improving CCGG, enabling us to better understand and address the concerns of well owners.
Everything we do began with an idea.
We realize your time is precious and the world is hectic. CCGG's volunteers do only what they're comfortable with. It can be a little or a lot.
For more information, please go to CCGG's About Page or contact us.
Carbon County Groundwater Guardians is a 501(c)(3) IRS approved nonprofit, volunteer organization and your donation is tax deductible to the extent allowed by law.  Unsolicited donations are appreciated.
Help the Organization and Get Your Water Tested or Order the Private Well Owner Guide (proceeds benefit This Organization).
http://www.portal.state.pa.us/portal/server.pt/community/newsroom/14287?id=14950&typeid=1
FOR IMMEDIATE RELEASE
10/27/2010
CONTACT:
Michael Smith, Department of Environmental Protection
717-787-1323
Pennsylvania Expands Keystone HELP Loan Program to Help Homeowners Install Money-Saving Geothermal Systems
New Program Puts Federal Recovery Act Funds to Work Creating Jobs, Producing Clean Energy
HUMMELSTOWN, DAUPHIN CO. — Pennsylvania homeowners who want to cut their heating and cooling bills in half now have a new, affordable method for financing clean geothermal heat pump systems, Department of Environmental Protection Secretary John Hanger and Pennsylvania Treasurer Rob McCord announced today.
The officials said a new Keystone Home Energy Loan Program option offers low-interest loans that are combined with companion loans given in anticipation of federal tax credits for fuel-conserving geothermal systems.
Hanger and McCord made the announcement while visiting the home of Peter and Laurel Hartwell, who are using Cleona-based G.F. Bowman Inc. to install a geothermal heat pump system.
The program is made possible with $5 million from the federal American Recovery and Reinvestment Act and could help as many as 750 homeowners purchase geothermal systems. Installing the systems will create hundreds of jobs for contractors like G.F. Bowman.
"Geothermal really is one of the great, largely untapped forms of renewable energy that is available to us," said Secretary Hanger. "Fortunately, more consumers are recognizing this and are making the smart decision to put geothermal systems in their homes. This program will make sure more families have access to this clean, money-saving technology by offering new financing options. That's good news for consumers, our economy and our environment."
The secretary added that by taking advantage of these federal and state incentives, geothermal systems can pay for themselves within only five to 10 years.
"Keystone HELP is a triple winner: families can make energy efficiency improvements to their homes that save money and reduce energy use, the commonwealth earns a secure return, and the program creates good-paying, much-needed jobs for local installers, contractors, and manufacturers," Treasurer McCord said. "Less pollution, lower costs, and more jobs—good work on three fronts."
Under the new geothermal loan program, qualifying homeowners can take advantage of an unsecured 4.99 percent loan for up to $15,000 with a term of up to 10 years. McCord noted that homeowners can also elect to  take an optional "tax credit anticipation loan" equal to the expected 30-percent federal tax credit up to a maximum of $10,000. The HELP program will make the first 12 monthly payments of the tax credit anticipation loan and homeowners can use the tax credit they receive to pay the remainder of the loan without any prepayment penalties.
Other special financing is available to homeowners who install a geothermal heat pump system as part of a comprehensive "whole house" improvement project recommended through a certified energy audit. In this case, qualifying homeowners can obtain a secured Keystone HELP loan for up to $35,000 with rates as low as 2.875 percent.
All work financed through Keystone HELP must be completed by a certified local contractor.
"This program is another great example of how the federal stimulus program is helping us build a green economy in Pennsylvania while encouraging private investment and putting people to work," said Hanger. "To date, the federal stimulus has directed more than $136 million to our state for clean energy projects like wind and solar, plus another $253 million to help consumers save money by weatherizing their homes. And we've leveraged those funds to attract about $1 billion in private investment.
"These are good investments in our economy that will pay dividends for decades to come, not only through lower utility bills, but also through cleaner air and cleaner water."
Created in 2006 by the Pennsylvania Treasury and AFC First Financial Corp. of Allentown, Keystone HELP offers affordable energy efficiency financing options, including rebates and low-interest loans, enabling homeowners to purchase and install energy efficient equipment or undertake improvements to cut energy use.
Keystone HELP began offering even lower rate loans in 2009, when Treasury partnered with DEP to expand the program's impact by using funds provided under Pennsylvania's 2008 Alternative Energy Investment Act.
Keystone HELP has helped more than 7,000 homeowners finance more than $58 million in money-saving home improvements. Visit www.keystonehelp.com to learn more or to apply for a loan.
COMMONWEALTH OF PENNSYLVANIA
Dept. of Environmental Protection
Commonwealth News Bureau
Room 308, Main Capitol Building
Harrisburg PA., 17120