Penn State Extension and MWON Promote National Protect Your Groundwater Day—September 10, 2013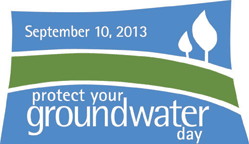 Penn State Extension and the Master Well Owner Network are excited to announce a variety of educational efforts in recognition of the National Ground Water Association's Protect Your Groundwater Day on September 10, 2013.
A live webinar will be broadcast from 12:00 to 1:00 PM entitled Strategies to Protect Private Wells and Springs in Pennsylvania to highlight basic management strategies that homeowners can use to protect their drinking water. The webinar will also highlight numerous Penn State publications and web tools that are available to private water well and spring owners. The live webinar can be viewed at
< https://meeting.psu.edu/water1 >
During the evening of September 10, Penn State water resources educators will present a Safe Drinking Water Clinic in Ebensburg, PA for water well and spring owners. This will be the first in a series of Safe Drinking Water Clinics which will be offered around the state in the next 12 months.
 More information about this online course can be found at:
< http://extension.psu.edu/water/mwon >
The Penn State Extension Water Resources team along with Master Well Owners provide education and assistance for thousands of private water well and spring owners across Pennsylvania each year. Tune in on September 10 to learn more about our resources and how to protect your groundwater!
To learn more about the National Ground Water Association and Protect Your Groundwater Day, visit their website at:
< http://www.ngwa.org/Events-Education/groundwater-day/ >
To celebrate National Protect Groundwater Day – The Carbon County Groundwater Guardians will be participating in the PA Energy Games in Hughesville, PA on September 7, 2013. We will have information on private wells, groundwater, alternative energy, conservation and Biomass.  Stop by and Say Hello !
Support the Local Groundwater Education – Get Your Water Tested !
For information about Carbon County's Groundwater Guardian activities, contact the  Us.
Volunteer
We seek new people at all skill levels for a variety of programs. One thing that everyone can do is attend meetings to share ideas on improving CCGG, enabling us to better understand and address the concerns of well owners.
Everything we do began with an idea.
We realize your time is precious and the world is hectic. CCGG's volunteers do only what they're comfortable with. It can be a little or a lot.
For more information, please go to CCGG's About Page or contact us.
Carbon County Groundwater Guardians is a 501(c)(3) IRS approved nonprofit, volunteer organization and your donation is tax deductible to the extent allowed by law..  Unsolicited donations are appreciated.
Help the Organization and Get Your Water Tested or Order the Private Well Owner Guide (proceeds benefit This Organization).