Well Water
A private well uses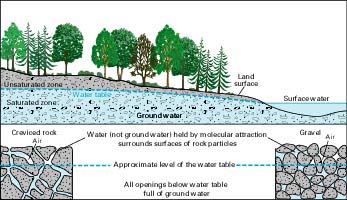 ground water as its water source. Ground water is obtained by drilling wells and is located below the ground surface in pores and spaces within rocks. Owners of private wells and other individual water systems are responsible for ensuring that their water is safe from contaminants.
According to the 2007 United States Census, over 15 million U.S. households rely on private, household wells for drinking water.
If polluted ground water is consumed, it could cause illness. Ground water pollution can be caused by seepage through landfills, failed septic tanks, underground fuel tanks, fertilizers and pesticides, and runoff from urban areas.
It is important that private ground water wells are checked regularly to ensure that the water is safe for drinking.
Typically, private water systems that serve no more than 25 people at least 60 days of the year and have no more than 15 service connections are not regulated by the EPA.  For more information on Groundwater in PA.
Private Well Water and Fluoride FAQs from CDC
EPA Private Drinking Water Based on Where You Live
New Guide Book on Drinking Water Quality In Pennsylvania 
Old Guide Book (Free Pdf Copy)
sources:
Center for Disease Control and Prevention (CDC),
U.S. Geological Survey,
Department of the Interior/USGS,
Water Research Center
A list of reasons regular water testing is important.
Discussions about need for water testing.
Private Well Water Testing Programs through Carbon County Groundwater Guardians. (Portion of the proceeds supports groundwater education in Pennsylvania).
Volunteer
We seek new people at all skill levels for a variety of programs. One thing that everyone can do is attend meetings to share ideas on improving CCGG, enabling us to better understand and address the concerns of well owners.
Everything we do began with an idea.
We realize your time is precious and the world is hectic. CCGG's volunteers do only what they're comfortable with. It can be a little or a lot.
For more information, please go to CCGG's About Page or contact us.
Carbon County Groundwater Guardians is a 501(c)(3) IRS approved nonprofit, volunteer organization and your donation is tax deductible to the extent allowed by law.  Help the Organization and Get Your Water Tested or Order the Private Well Owner Guide (proceeds benefit This Organiazation).