2009.07.08 – Public health forum in Tamaqua begins Thursday
http://www.tnonline.com/node/461652
July 8, 2009
Rare blood disease hits home
Public health forum in Tamaqua begins Thursday
By DONALD R. SERFASS dserfass@tnonline.com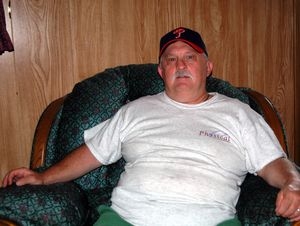 DONALD R. SERFASS/TIMES NEWS Merle Wertman rests Tuesday after returning from a tiresome phlebotomy procedure, which he undergoes regularly. Wertman is one of a significant number of area residents battling a rare blood disease called polycythemia vera, an issue to be discussed Thursday at a public health forum at the Tamaqua Area Auditorium.
Merle Wertman first knew there was a problem six years ago when he developed unexplained bleeding, a situation that caught him off guard.
The bleeding was serious enough to require inpatient treatment. And that's when the diagnosis was made.
"I wouldn't have known about it if I hadn't landed in the hospital," says the 64-year-old Tamaqua man.
After a battery of tests and a three-day hospital stay, Wertman learned he had polycythemia vera (PV). PV is a condition in which too many red blood cells are made in the bone marrow. The blood then thickens.
"It becomes like molasses," says Wertman, who retired as a guard at the county prison three years ago. "It can lead to stroke or heart attack."
Doctors say the number of white blood cells and platelets may also increase. These extra blood cells may collect in the spleen and cause it to swell. The increase in red blood cells or platelets in the blood can cause bleeding or sometimes make clots form in blood vessels.
To combat the illness, Wertman receives phlebotomy treatments every few weeks, which can leave him feeling tired and drained.
"It depends how high my hemoglobin count might be," he says.
Phlebotomy is a procedure that removes blood from the body. Removing blood regularly helps to decrease iron levels by reducing the number of iron-rich red blood cells.
"It isn't a fun disease," says Wertman, a volunteer with the Hometown fire police since 1991.
Making the problem even more serious is that polycythemia vera isn't so rare in the Carbon-Schuylkill-Luzerne county area of northeastern Pennsylvania. Nobody is sure of the actual count, but reports show that PV is present at a disproportionate level in the tri-county region.
Why is that so? Some believe the problem is based on industrial pollution, past or present. At the very least, environmental factors are considered a suspect.
To help address the problem, the federal Agency for Toxic Substances and Disease Registry (ATSDR) will hold a public meeting in the Tamaqua Area Auditorium at 500 Penn Street atop Stadium Hill, on Thursday from 7 to 9 p.m. The agency intends to inform area residents of recent efforts regarding PV.
At the meeting, ATSDR officials will present an overview of the PV research and other activities. In addition, the principal investigators of three projects will be on hand for more detailed discussions of their work.
The projects include: the Drexel epidemiological study, the McAdoo Superfund Site Water Outflow Study, and the ATSDR JAK2 screening project.
The JAK2 genetic marker was discovered in 2004 and found to occur in more than 95 percent of PV patients. Many experts believe people with PV and related blood disorders may test positive for the JAK2 marker for a number of years before ever exhibiting PV symptoms. It is not known at this time if the JAK2 marker always leads to PV or another blood disease.
The ATSDR will offer free blood tests to the community for the purpose of screening for the JAK2 marker. By volunteering for this testing, residents can learn if they carry the marker, even though they are currently without symptoms of PV. Early diagnosis and treatment of PV can prevent or delay complications. Individuals aged 40 or older are deemed most likely to test positive for the JAK2 marker; however, anyone living in Carbon, Luzerne or Schuylkill counties is eligible for the screening.
Blood draw clinics will be set up in Hazleton, Tamaqua and Pottsville from Aug. 3-6 and Aug. 10-13. Individuals are encouraged to make an appointment by signing up at the public meeting or by calling 1-877-525-4860.
Wertman and wife Linda highly recommend that local residents take the test. As the parents of three daughters, they know that steps taken today just might pave the way for a healthier life for everybody's children and grandchildren.
Merle and Linda are hoping that many local residents turn out for Thursday's meeting to learn more about the illness and to push for answers.
"I want them to find a cure so that nobody else gets this disease," says Merle. "I'm glad that more people are starting to get involved."