2009.07.10 -Test sites are announced for JAK2 marker
http://www.tnonline.com/node/462530
July 10, 2009
Test sites are announced for JAK2 marker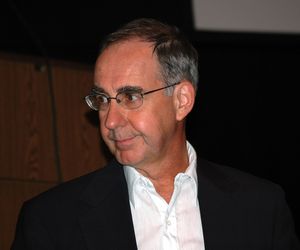 DONALD R. SERFASS/TIMES NEWS Dr. Kenneth Orloff announces details of a public health screening for residents of Schuylkill, Carbon and Luzerne counties, as announced at Thursday's health forum. The screening will help identify those who carry a genetic marker found among 90 percent of people with polycythemia vera, a rare blood disorder.
The ATSDR and PADOH will offer public health screenings for a genetic marker known as JAK2. The genetic mutation has been observed in over 90 percent of patients with polycythemia vera, a rare blood disorder.
Residents of Schuylkill, Carbon and Luzerne counties particularly those over age 40 can receive the simple blood test to see if the mutation is present. Although the meaning of a positive test in someone who is well is not known, it is possible that people with this mutation may develop PV later in life. Knowing this mutation is present may help your health care provider to more closely monitor your blood counts, according to the ATSDR.
"JAK2 is an acquired mutation," says Dr. Kenneth Orloff, ATSDR toxicologist. "You are not born with it."
Free testing will take place from Aug. 3-6 and Aug. 10-13 from 9 a.m. to 5 p.m. at three locations:
• St. Jerome's Regional School Gymnasium, 255 West Broad St., Tamaqua
• Hazleton General Hospital, O & E Building, 1st Floor, 700 E. Broad St., Hazleton
• Schuylkill Mall, Community Meeting Room, Route 61 & I-81, Frackville
You must have lived in Schuylkill, Carbon or Luzerne counties for at least the past year in order to take the test, although allowances will be made for long time local residents who might have moved away.
Results of the test will be mailed to participants in about 4-6 weeks and all results will be confidential.
In order to participate in the screening, appointments can be made at 1-877-525-4860.
More information about the screening can be obtained from the office of Dr. Kenneth Orloff, 1-866-448-0242. Information about other ATSDR activities in the region can be addressed to Lora Siegmann-Werner, (215) 814-3141.