2009.07.31 – JAK2 Health screenings filled to capacity
http://www.tnonline.com/node/469586
July 31, 2009
350 participants sign up
JAK2 Health screenings filled to capacity
By DONALD R. SERFASS dserfass@tnonline.com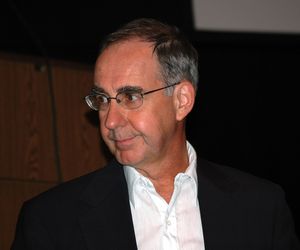 DONALD R. SERFASS/TIMES NEWS Dr.eth Orloff of the ATSDR said Thursday that next week's health screening for the JAK2 genetic marker has been capped at 350 participants and is currently filled to capacity. Another screening will be offered in the fall. Orloff is seen here addressing questions about the testing at an earlier public health forum held in Tamaqua on July 9.
A health screening to help identify those who carry a genetic marker found among 90 percent of people with polycythemia vera, a rare blood disorder, has been capped at 350 participants and no openings are currently available. But another round of tests will be offered in the fall.
That was the word Thursday from Dr. Kenneth Orloff of the Agency for Toxic Substances and Disease Registry. The agency is teaming with the PA Department of Health to sponsor public health screenings in three regional communities beginning Monday for residents of Schuylkill, Carbon and Luzerne counties.
Orloff told the TIMES NEWS that hundreds have called to register for the screenings. However, due to a limited availability of phlebotomists and other factors, the number was limited to 350.
"People who weren't able to get registered will be offered an opportunity in the second round of testing in the fall," said Orloff.
Residents of the three counties particularly those over age 40 are being offered the simple blood test to see if the specific JAK2 mutation is present. Although the meaning of a positive test in someone who is well is not known, it is possible that people with this mutation may develop PV later in life. Knowing this mutation is present may help health care providers to more closely monitor a patient's blood count, according to the ATSDR.
"JAK2 is an acquired mutation," said Orloff at a public health forum held in Tamaqua on July 9. "You are not born with it."
The free testing for those already registered will begin Monday, Aug. 2, and continue to Aug. 6, then again on Aug. 10-13. The testing will take place from 9 a.m. to 5 p.m. at three locations:
• St. Jerome's Regional School Gymnasium, 255 West Broad St., Tamaqua
• Hazleton General Hospital, O & E Building, 1st Floor, 700 E. Broad St., Hazleton
• Schuylkill Mall, Community Meeting Room, Route 61 & I-81, Frackville
You must have lived in Schuylkill, Carbon or Luzerne counties for at least the past year in order to take the test, although allowances will be made for long time local residents who might have moved away. Results of the test will be mailed to participants in about 4-6 weeks and all results will be kept confidential.
Although all slots are filled for next week's tests, local residents can still call to be added to the list for the fall testing. In order to participate in the fall screening, residents can leave their contact information at 1-877-525-4860.
According to reports, the PV blood disorder is being found with alarming frequency in the region. PV is characterized by a thickening of the blood and related complications. Statistically, it is found in one or two people per 100,000 population.
However, in one local neighborhood, multiple cases were found along one single street, including two cases in the same household. The cause is unclear at this point, although many speculate that environmental contamination from the nearby McAdoo Associates Superfund site is the culprit. Others suspected factors have suggested as well, including human contact with formaldehyde used in foam insulation, and the presence of radon in homes.
Next week's testing is seen as the first of many layers of research needed to try and get to the bottom of the issue. The ATSDR will issue a public disclosure once results are compiled.
"After all the test results have been given to the individuals, we'll be giving a summary report," said Orloff.