CHILDREN'S GROUNDWATER FESTIVAL SET FOR JULY 9 AT CARBON ED CENTER
CHILDREN'S GROUNDWATER FESTIVAL SET FOR JULY 9 AT CARBON ED CENTER
By Marigrace Heyer
The Times News, © 2005
June 29, 2005
Rick Grant, president of the Carbon County Groundwater Guardians, and Carbon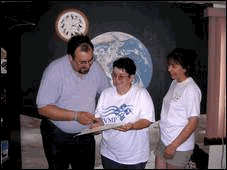 County Environmental Education Center naturalists, Jeannie Carl, center, and Susan Gallagher, look over materials that will be used for the Children's Groundwater Festival on Saturday, July 9.
The first-ever Children's Groundwater Festival is set for Saturday, July 9, at the Carbon County Environ-mental Education Center.
Children, as well as their families, are invited to visit the center between 10 a.m. and 4 p.m.
The event is being held in conjunction with the Carbon County Groundwater Guardians, a community-based program in which business, government, educators and citizens work together for groundwater protection.
"It's part of our mission to reach out to the community and this program is directed at the youth," said Susan Gallagher, the center's chief naturalist. "Hopefully, their parents will come to the program with them."
Information stations will be set up inside the center as well as outdoors on the center grounds, offering short lessons on water conservation, pollution prevention, water chemistry, and much more.
Each station will provide fun and exciting hands-on learning guaranteed to insight young minds on the importance of protecting our water resources.
The program is free of charge is open to all ages. No registration is required.
If you have questions or are interested in bringing a group of children, please call the CCEEC at 570 645-8597