RAIN/SNOW MONITORING
Rain/Snow Monitoring in Carbon County, PA. The Carbon County Groundwater Guardians has formed a network of precipitation monitors who measure rain, snow depth and the water equivalent of the snow. All the monitors are members of a nationwide network called CoCoRaHS, which is based at Colorado State University. They also were trained and work with Dr. Paul Knight, the Pennsylvania State Climatologist. Anyone in the United States can join and we ask you to look over the information below.

Our current active monitors are at these locations: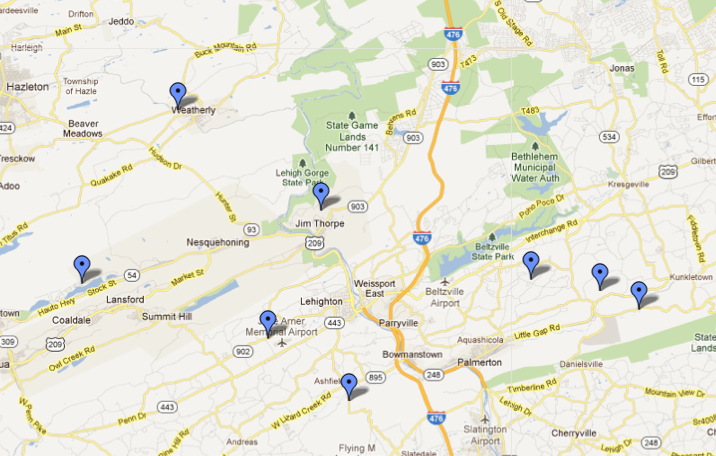 This graph below will be updated every two week on the 1st and 15th of each month to shows the average rain and snow amounts. The "Total Precip" contain rain and the amount of water in the melted snow. The water year runs from October 1st to September 30th, which corresponds to the reset of the graph below to zero.
For the period October 1, 2009 to Sept. 15, 2010, 44.43 inches of rain and melted snow were measured. Also recorded was 52.48 inches of snow.

For the period October 1, 2010 to Sept. 30, 2011, 81.53 inches of rain and melted snow were measured. Also recorded was 33.81 inches of snow. This amount is 28.83 inches more than the last year's water year.
October 1st is a special day on the CoCoRaHS calendar. It is the first day of the 2012 Water Year!
What is the water year?
The water year is an approximation for the best consecutive 12 months that span the "water storage/water usage" hydrologic cycle. The water year cycle is particularly obvious in the Rocky Mountains and western U.S. where snow begins to accumulate at high elevations in October and doesn't melt and run off until next spring and summer. But this same important annual cycle takes different forms across the entire country.
Another way to think of the Water Year is the resting/replenishing season followed by the water consuming season where vegetation grows, crops are grown and then harvested. For much of the country, the months of October through March are months where precipitation from the sky exceeds evaporation from the ground. This means that soil moisture and ground water can recharge. The next spring temperatures will warm again, plants will come back from dormancy and once again evapotranspiration will surge.


CoCoRaHS is a grassroots volunteer network of backyard weather observers of all ages and backgrounds working together to measure and map precipitation (rain, hail and snow) in their local communities. By using low-cost measurement tools, stressing training and education, and utilizing an interactive Web-site, our aim is to provide the highest quality data for natural resource, education and research applications. The only requirements to join are an enthusiasm for watching and reporting weather conditions and a desire to learn more about how weather can effect and impact our lives.
Our Web page provides the ability for our observers to see their observations mapped out in "real time", as well as providing a wealth of information for our data users.
For more information, please click here: Information about CoCoRaHS
If you would like to sign-up as a volunteer observer and become part of our expanding network, please click here: "Join the CoCoRaHS Network".
National Weather Service Forcasts:   Palmerton –  Weatherly
Doppler Radar: Northeast PA – Pennsylvania – NE states – United States