January 8, 2018
Penn State Extension and the Monroe County Conservation District are excited to launch the Master Watershed Steward Program.
The Master Watershed Steward program is a collaborative effort between Penn State Extension, Monroe County Conservation District, and local conservation groups. It is similar to the Master Gardener program and is designed to train people in a formal way about the basics of water resource stewardship, creating an energized and educated group of citizens. Currently, the MWS program is in 13 counties across the state and has 194 volunteers that have contributed over 7,500 volunteer hours in 2017.
We are recruiting 20-25 interested people for the class of 2018. The class will consist of 40 hours of training on various topics, including water quality, stream health, groundwater, native plants, and recreational resources. Once this part of the training is complete, trainees perform 50 hours of volunteer service on selected projects such as:
– Organizing and executing stream cleanups.
– Designing and installing demonstration rain gardens.
– Assist in stream restorations.
– Organize educational workshops addressing topics such as rain barrels, pollution prevention, invasive plant control, and stormwater management.
Products from Amazon.com
‹
›
Applicants are welcome from all walks of life. If under 18, you must be accompanied by a guardian or adult. The program will start on Thursday, March 1, 2018, 6:00-8:30 pm and will continue every Thursday through May. There will be several Saturday field trips.
An informational session at 6:30 pm will be held on January18 at:
Monroe County Conservation District
8050 Running Valley Rd.
Stroudsburg, Pa.
If interested, please contact:
Jim Vogt
Phone: 570-421-6430
Email: jav45@psu.edu
Web: extension.psu.edu/programs/watershed-stewards/counties/monroe
Penn State Extension
Monroe County
724 Phillips Street, Suite 201
Stroudsburg, PA 18360
by S. Oram (new blogger)
Where do you throw your plastics and trash when you are done with it?   I would hope you say you RECYCLE ! Because just throwing that container away by mixing it with the normal trash or discarding out the window creates problems.  Part of this problem is POLLUTION.  This pollution creates visual aesthetic issues, but also damages habitat and threatens the land, air, and sea animals.  Did you ever stop and think about how these things can affect the animals outside?   Most plastic waste comes from third world countries especially in China, but we can still make a difference.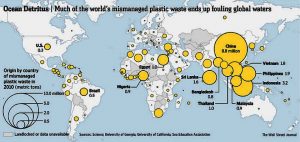 https://goo.gl/images/38xfsv   Online Source – 
In the 1970s, the National Academy of Sciences estimated about 45,000 tons of garbage and waste was being tossed and thrown in the ocean.   Since initial estimate, it has gotten even worse. Many people throw things in the ocean and don't think about the animals in it or the other uses downstream.  The materials can get wrapped around the animals or some of the animals eat.  The animals become hurt, sick, and die. Littering can kill marine life and destroy habits.  Some people don't stop to think about the animals and their safety.  Over 100,000 marine mammals and 1 million sea birds are killed each year from plastic pollution and  6 million tons of debris, i.e., a ton is 200 lbs , enters the ocean each year.  It is time to say – Enough!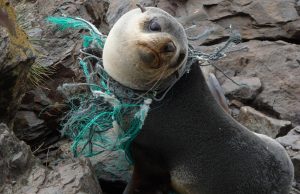 Sad there is no reason to create this type of pain and suffering.

Did you know it can take up to 450 years for plastic bottles to decompose?
Where is most of this plastic?  (Operation Seanet)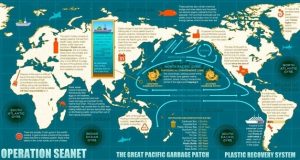 Here is a list of wastes that go in the ocean and how long it takes to decompose.
Foam cups and tin cans – up to 50 years.
Plastic bottles up to 450 years.
Fine fishing net up to 600 years (much longer for heavier nets).
Cigarette butts- 1 – 5 years.
Plastic bags- 10 – 20 years (Some putting this debris in a plastic bag is not good enough) .  The bags breakdown and this it may take 100s of years for the content to decompose.
SO – Simply Bagging the Trash is Not a Solution.  We must make every effort to recycle, reuse, and then put our young minds together and help to clean up our oceans, beaches, and landscapes and develop better solutions.
My call to action:
Please think twice before littering and think twice before throwing stuff away.
Pick up litter and Recycle – Participate in local clean up events.
  Try to kick the plastic habit.
Check out Operation – Seanet
Sources:
http://www.perseus-net.eu/site/content.php?locale=1&sel=517&artid=565
https://www.dpaw.wa.gov.au/management/marine/marine-parks-wa
http://www.bluebird-electric.net/oceanography/Ocean_Plastic_International_Rescue/Logistics_Recycling_Plastic_Ocean_Cleanup_Cargo_Operations.htm
VACANCY ANNOUNCEMENT
EXECUTIVE DIRECTOR, PIKE COUNTY CONSERVATION DISTRICT
Pike County Conservation District (PCCD) is accepting applications for a full-time Executive Director (ED). Challenging position responsible for management of the overall administration and supervision of Conservation District programs, personnel, and operations implementing the Conservation District Mission within Pike County. Must be a leader, a service-oriented individual with high ethical standards and excellent interpersonal, communication and organizational skills. Must have a knowledge of current natural resource conservation issues, practices and programs. ED supervises a staff of 7. Pike County position with a competitive salary and benefit package. Pike County is an EOE. MINIMUM QUALIFICATIONS: Bachelor's degree in natural resource management, environmental science or related field with demonstrated experience of at least two (2) years (including supervisory experience), or any equivalent combination of experience. Must possess and maintain a valid Pennsylvania driver's license. Clear Pennsylvania State Police criminal background check, all Child Abuse History Clearances and FBI fingerprint clearance are required. Applicants must submit: 1) Letter of Interest addressed to Conservation District Selection Committee and 2) A Detailed Resume including references. Send to ATTENTION OF: Selection Committee, Pike County Conservation District, 556 Route 402, Hawley, PA 18428. Must be received by PCCD no later than January 5, 2018 closing date for applications. Hard copy submissions preferred. Email submissions send only to scorrigan@pikepa.org. Please read minimum qualifications thoroughly and demonstrate you meet requirements in the materials you submit.
THANK YOU
Sally Corrigan, Executive Director
Pike County Conservation District
scorrigan@pikepa.org
570-226-8220 (t) Ext. 1338
www.pikeconservation.org
Training Courses
Professional Management Courses including Project and Non-profit Management
Water Resource Training Courses – Wetlands, Smart Development, Sustainability, Stream Restoration, and More.