2006.03.11 – WATER QUALITY CONCERNS: STEPS TAKEN FOR MAJOR TESTING OF STILL CREEK WATERSHED
WATER QUALITY CONCERNS: STEPS TAKEN FOR MAJOR TESTING OF STILL CREEK WATERSHED
By Donald R. Serfass, dserfass@tnonline.com
The Times News, © 2006
March 11, 2006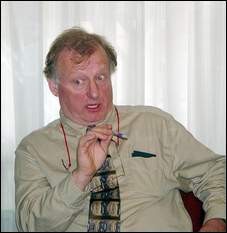 "The raw water contains an usually high level of lead," says expert Robert Gadinski on Friday at a meeting held in the office of state Rep. David Argall. An in-depth study is gearing up to examine the watershed.
The decision appears to be unanimous.
Two highly-regarded experts will be relied on to lead an investigation and testing into whether the Still Creek Reservoir has been negatively impacted by a former Superfund site and to what extent the local drinking water might play a role in a local high incidence of cancer.
Nobody knows if that is the case, but everyone wants to know for sure.
With that in mind, a meeting among concerned parties took place Friday in the Tamaqua office of state Rep. David Argall, R-124.
The session began with a bombshell.
Dr. Peter Baddick announced that another case of polycythemia vera has been diagnosed and the person is not a resident of Ben Titus Road, but of Dutch Hill. The affected family has lived in Tamaqua for decades.
"His daughter also is ill and his wife died of multiple myeloma," said Baddick.
Polycythemia vera is the rare blood disease that has been diagnosed among residents along Ben Titus Road. It is prevalent among some 60 reported cases of cancer in that neighborhood. The condition is described by Baddick as "a bone marrow disease" that has been linked to exposure to the chemical benzene, according to medical studies. ? Ben Titus Road and Still Creek Reservoir are located downhill from the McAdoo Associates site, where tens of thousands of barrels of toxic chemicals were dumped in the 1970s and 80s, including 20,000 gallons of cyanide on one single day, according to records.
"There were 18,000 drums dumped in one year alone," explained Joseph Murphy, a Hometown environmentalist.
The meeting was attended by representatives from the offices of local lawmakers, along with environmentalists, engineers, water authority officials, water quality experts and cancer patients from the affected area.
Many questions were raised during the two-hour session and tempers flared at times.
However, all parties appeared to agree that two men, Ed Schoener, president of Schoener Environmental Consulting Services, Moscow, and Robert Gadinski, independent water quality expert, have the expertise to get the job done.
While both men are retired from careers with the Department of Environmental Protection (DEP), they come highly-recommended by Dr. Baddick and others. Both will initially volunteer their professional services.
To move forward, Clyde 'Champ' Holman, chief of staff in the office of Sen James Rhoades, R-29, offered $5,000 in upfront funds on behalf of the senator, whom he says is seriously concerned about the issue. The move prompted a round of applause from the more than two dozen on hand.
Micah Gursky, staff assistant to Rep. Argall, said Argall's office also is concerned and has delved into the matter at great length, going so far as to contact state and federal agencies and the private sector to summon assistance.
Dale Glatfelter of Gannett Fleming Engineers and Planners, Harrisburg, said the Tamaqua drinking water has shown "nothing out of the ordinary" according to the level of testing required.
It was noted that the tap water meets standards. However, Gadinski said the raw water, meaning the water in Still Creek Reservoir, shows "unusually high" levels of lead and elevated zinc.
Schoener said that factor calls for study.
'The lead level in the raw water is high and merits further investigation."
Both John Tracy and Brian Connely of the Tamaqua Area Water Authority indicated that the authority wants to get to the bottom of the issue.
In fact, Tracy pointed out that the authority was the entity to first order testing a few years ago when questions arose.
That testing was done by Benchmark Analytical, Center Valley.
A large portion of the discussion focused on trust.
"Let's eliminate DEP right from the get-go because I don't trust them," urged Baddick.
Tamaqua Council President John Trudich was in agreement.
"Nobody is going to trust DEP," he said.
Funding will be a major hurdle. Both federal and state resources likely will be tapped. Glatfelter said some inexpensive testing can cost about $10,000. However, hydrogeological studies can run into the six digits. It was noted that comprehensive testing is expensive. Well drilling and monitoring runs $50 a foot. The total could run up to $3 to $4M or even higher depending on scope.
Baddick said the seriousness of the matter calls for a major commitment from all resources.
"It's a matter of life and death."
Also discussed was the possibility for related bioaccumulation studies that would focus on the health of local residents. Those in attendance said the factors are connected and need to be examined in detail, something that earlier Department of Health studies failed to tackle due to limitations.
"If there's a health problem, let's find it and deal with it," said Holman.
Moreover, if problems are linked to McAdoo Associates and if, for example, new or additional pathways for contamination are uncovered, the location can be re-opened as a federal Superfund site.
"EPA is supposed to do a five-year review for adequacy of clean-up. It's part of the Superfund law."