2008.10.07 – A battle plan against blood cancer
http://www.tnonline.com/node/369217/2286#comment-2286
October 7, 2008
A battle plan against blood cancer
Specter pledges fight vs. polycythemia vera
By JOE PLASKO jplasko@tnonline.com
U.S. Sen. Arlen Specter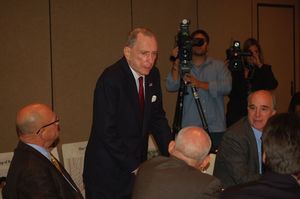 With higher than normal incidences of a rare blood disease clustered in the Schuylkill, Carbon and Luzerne tri-county area, a United States senator has pledged a battle plan against the disorder, pushing for urgency among researchers to determine the cause.
Senator Arlen Specter of Philadelphia met with community members and officials who have been directly involved with the outbreak of polycythemia vera in the region Monday afternoon at Genetti's Best Western Inn and Suites, Route 309, Hazleton.
Participants included residents who have advocated attention and study of the health matters, as well as several suffering from the blood cancer, the doctors that treat them, and officials from the Pennsylvania Department of Health and the federal Agency for Toxic Substances and Disease Registry (ATSDR).
The ATSDR has identified 33 cases of polycythemia vera in the region, including a cluster along Ben Titus Road in Still Creek, north of Tamaqua and near the McAdoo Associates Superfund site.
Two Still Creek residents, Lester and Betty Kester, were diagnosed with polycythemia vera in 2003 and both died this year, Lester in January and Betty on Sept. 18. Their daughter, Ruth Kester Husky, was in attendance.
Dr. Peter Baddick, West Penn Township, who has treated a number of the cancer patients through his Weissport practice, said the polycythemia vera cluster in the region is unique on a national scale.
Two years ago to the day, Oct. 6, 2006, Specter visited the McAdoo Superfund site and announced that the Centers for Disease Control and Prevention (CDC) and Pa. Department of Health would partner to perform a statistical analysis of the region's health data.
In June, Specter announced the U.S. Senate Appropriations Committee approved $262,000 for the Drexel University School of Public Health, Philadelphia, to investigate the polycythemia vera cluster.
Specter, who battles Hodgkins disease himself, said the bill containing the funding has yet to be passed by Congress but expressed confidence that the funds for the Drexel study will be available.
Dr. Steve Ostroff of the Pa. Department of Health said there is a need for more intensive study of the risk factors at work with the disease.
"When do we get started?" asked Specter. "I think the people in this situation appreciate results and would like to know when the study is complete, what are the risk factors involved and remedial actions to take."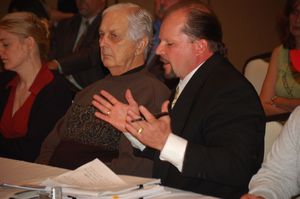 JOE PLASKO/TIMES NEWS Dr. Peter Baddick calls for more community representation on committees that are studying polycythemia vera, as well as more investigation into potential environmental causes.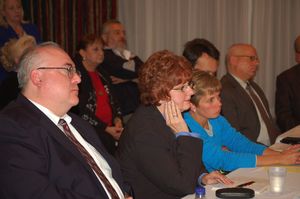 Polycythemia vera panelists (from left) Joe Murphy, Ruth Kester Husky and Cathy Miorelli listen to Senator Arlen Spector's call for a battle plan against the disease.
Specter asked if the researchers were out of money.
"I know there are limitations, but the CDC has very substantial funding," he said. "You have a community very much on edge. I can see it in the faces of these people here today."
Specter said the next steps include a case control study, noting he committed the resources to the Drexel study, as well as looking at the disease in other sections of the country.
"In West Virginia, they have the kind of (cogeneration) plants that burn waste coal like they do here, and we'd like to check for polycythemia vera there," said Specter. "With the problem of accuracy in diagnosis, I'd encourage the registry to be more thorough in identifying cases."
Specter agreed that there is still much that is not known about the disease.
"I'd like to get a handle on it, and I'd like to see it in writing, identifying the cause," he stressed. "I'd like to see what you might do in West Virginia, what kind of time line, and any financial problems you have.
"The (Pa.) Department of Health has an extensive budget. Governor Rendell will be concerned, and I will take this to him personally."
Dr. Paul Roda of Geisinger/Hazleton Cancer Center, said he has been studying cancer cases since 1981 and pointed to the research of Dr. Vince Seaman, research and epidemiologist health investigator for ATSDR, and Dr. Ronald Hoffman of Mt. Sinai in identifying the disease. The JAK2 mutation has been identified in polycythemia vera patients.
"It's a superb piece of work," said Roda. "Before this, no one had anything that could have been taken to your office seriously. We had no proof. This was a big first step."
"Didn't we know we had a problem before this?" asked Specter. "The legal and medical communities didn't know we had a problem," said Roda.
Baddick said that the medical panels involved with the study of the disease lack civilian representation, particularly among people such as himself, Tamaqua Borough Councilwoman Cathy Miorelli and Hometown resident Joe Murphy, who suffers from multiple sclerosis, have been at the forefront in sounding the alarm about the cancer cluster problem.
"It's important to keep the community involved," said Miorelli. "Without these people here, we wouldn't be asking these questions."
Baddick had four suggestions for Specter's battle plan. They included adding community liaisons on the expert communities studying polycythemia vera; committing to a comprehensive study of the McAdoo Superfund site; more active testing in the region, which is "ground zero" for the disease; and a more thorough investigation of the environment.
"If everyone's afraid of that, we may never find the answer," said Baddick, who likened a mutated fish found in the Still Creek Reservoir to the canary taken down into a coal mine. He asked for toxicological and hydrogeological studies of the area.
"The biggest problem is the fear of what the cause is … if it's an environmental cause," said Hazleton Mayor Lou Barletta. "Hopefully through your (Specter's) leadership, we can get to the bottom of it."
Bill Mackey of West Penn Township, the Democratic candidate for the Pa. Representative seat from the 124th District, told Specter he would like to see periodic reports made public on what research is being done.
"It took five years to say these people are sick," said Mackey. "We can't see who is working on what. There's no sense of urgency."
"My parents were diagnosed in 2003, and they died in 2008," said Ruth Kester Husky. "I think five years is too long. Something should have been done to help them."
"There's no insurance for p.vera," said Debra Trently, who has been diagnosed with the disease. "I want to live longer than five years."
Specter said he would hold the Department of Health and CDC, along with ATSDR, responsible to determine what the steps are in identifying incidents of the problem in other places and what kind of research is necessary to further quantify the problem, looking for funding as needed.
Murphy said he was very encouraged by the session.
"It's nice to see the senator is very sincere about getting to the bottom of this and getting it on the fast track," related Murphy, who added he is working on a foundation in Betty Kester's name that will target specific resources toward polycythemia vera and blood disorders.