2009.05.04 – Cancer cluster Sen. Specter leads Hazleton meeting
http://www.tnonline.com/node/439799
May 4, 2009
Cancer cluster Sen. Specter leads Hazleton meeting, battle plan detailed
By DONALD R. SERFASS dserfass@tnonline.com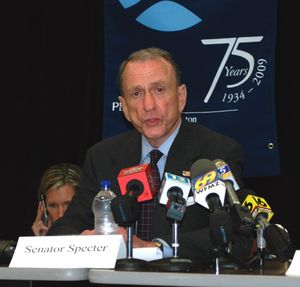 DONALD R. SERFASS/TIMES NEWS In announcing details of a rare cancer study Friday at Penn State University in Hazleton, Sen. Arlen Specter acknowledged the problem nationally with toxic dumps, stating "we have to respond to it as best we can."
WEST HAZLETON – A $5.5 million grant will help launch a multipronged effort to find the cause of a rare cancer cluster impacting residents of Luzerne, Carbon and Schuylkill counties.
Over 60 local residents turned out Friday afternoon to hear details and an update concerning the high incidence of polycythemia vera (PV), a rare blood disease found locally in an alarmingly high rate. The forum took place inside the Evelyn Graham Academic Building of Penn State University's Highacres Campus near Hazleton.
The meeting was called by Sen. Arlen Specter and conducted by him on the 79-year-old senator's first full day of work as a newly-proclaimed Democrat.
Many believe local cases of PV can be traced to contamination from McAdoo Associates, a longtime Superfund site. Specter said problems exist in other areas, too.
"We've had a problem nationally with toxic dumps … we have to respond to it as best we can," said Specter, explaining that the funds would be funneled to appropriate PA state agencies, academic research institutions and health care organizations. "We've identified projects and have gone over them with the Department of Health."
To outline the steps to be taken with the federal funds, Specter called on Dr. Vince Seamon, PV principal investigator with the federal Agency for Toxic Substances and Disease Registry.
Speaking with Specter via speakerphone, Seamon told attendees that funds will be used for: 1) creating a tissue bank set up in the name of the late Betty Kester of Still Creek, a PV victim; 2) creating a formal community based organization to facilitate communications regarding PV and rare cancers; 3) setting up research of specific sites and location of affected residences along Ben Titus Road; 4) conducting an epidemiological study; 5) conducting a series of lab tests of patients to look for common patterns or common exposures; 6) creating an environmental exposure team to conduct appropriate studies; and 7) working with the Centers for Disease Control agencies and locally to improve the registry reporting system for PV and all cancers.
Seamon said the ATSDR plans to set up a local community meeting about PV by June.
Following the presentation by Seamon, Specter introduced Joseph Murphy of Hometown, whom he called "the champion of the citizens group" in reference to Murphy's many years of dedication to the cause.
Murphy told Specter that precious time has been lost.
"It's five years in the making. Five years is just too long. We need to bring a sharper magnifying glass here in a hurry," said Murphy to Specter.
Specter then introduced Dr. Peter Baddick of West Penn Township, calling him "one of the original advocates."
Baddick, a native of the Quakake/Still Creek area, serves as medical director of the Penn Medical Group, Weissport.
It was Baddick's rallying cry of 5 Cs: "Covert Conspiracy Coverup of the Cancer Cluster," that called attention to what many believe was an initial decision by the state Department of Health to deny that any problem existed.
"In 2005, the DOH conducted studies and I disagreed with several of their reports," said Baddick, explaining that medical evidence of the cluster was apparent in the number of local resident becoming sick. "It ws difficult (for them) to hide a growing body count."
I'd rather be correct than politically correct," Baddick added. "We already know there's a cancer cluster. The $5.5 million will help discover a cause and then hopefully discover a cure. It's a cancer that's fairly new and not very well understood."
Another health advocate, Larry Levin, urged Specter to use the money in a way that would directly help those in need – the residents dealing with PV.
"My hope is that some of the money can be directed to helping them now," said Levin, explaining that treatment costs can run $35,000 to $50,000.
PV patient Debbie Trently, 53, Freeland, said she's been dealing with the illness for years and believes she'd be unable to secure necessary health care coverage. Trently also questioned Specter about the average expected life span.
In response, Dr. Paul Roda of Geisinger Health Center, said the average life span is 20 years and that many don't require treatment until they've had the illness for several years.