2009.08.04 – JAK2 blood testing begins
http://www.tnonline.com/node/470443
August 4, 2009
JAK2 blood testing begins
Residents voice concern about McAdoo Associates
By DONALD R. SERFASS dserfass@tnonline.com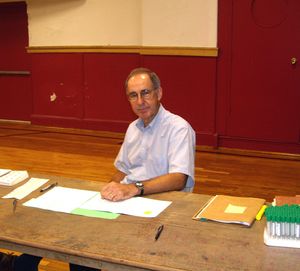 DONALD R. SERFASS/TIMES NEWS Dr. Kenneth Orloff of the Agency for Toxic Substances and DIsease Registry, takes a pause inside St. Jerome's Regional School gymnasium, Tamaqua, on Monday as he waits to administer a blood test to possibly identify a genetic marker found ins 90 percent of people with polycythemia vera, a rare blood disorder.
The health screening to help identify those who carry a genetic marker found among 90 percent of people with polycythemia vera, a rare blood disorder, is under way and the response is demonstrating significant local concern over the emergence of the mysterious health issue.
On Monday, Dr. Kenneth Orloff of the Agency for Toxic Substances and Disease Registry said that St. Jerome's Regional School gymnasium, Tamaqua, was busy as a steady flow of concerned local residents arrived to receive the free blood test. All had been pre-registered in a process that began several weeks ago.
"This has been the most popular location," said Orloff. The agency is teaming with the PA Department of Health to sponsor public health screenings in three regional communities for residents of Schuylkill, Carbon and Luzerne counties.
Residents of the three counties, particularly those over age 40, are being offered the simple blood test to see if the specific JAK2 mutation is present. Although the meaning of a positive test in someone who is well is not known, it is possible that people with this mutation may develop PV later in life. Knowing this mutation is present may help health care providers to more closely monitor a patient's blood count, according to the ATSDR.
The health screening had been capped at 350 participants and no additional openings are currently available. But another round of tests will be offered in the fall.
Orloff told the TIMES NEWS that hundreds had called to register for the screenings. However, due to a limited availability of phlebotomists and other factors, the number had to be limited.
Orloff was on hand at St. Jerome's gymnasium all day Monday accompanied by a phlebotomist who drew blood samples from each preregistered person who entered the facility. Orloff welcomed questions from the media. However, due to privacy and confidentiality issues, the media was not allowed inside the gymnasium while persons were taking the blood test or waiting to receive the blood test.
Orloff said a common thread in the discussions he had with those tested was concern that the elevated number of local polycythemia vera cases might be the result of environmental contamination from the McAdoo Associates Superfund site. Those thoughts, however, are considered strictly speculation at this point in time.
"That's why we're doing this. It's what we want to find out," said Orloff, referring to the importance of finding a suspected cause.
The free testing for those already registered will continue to Aug. 6, then again on Aug. 10-13. The testing will take place from 9 a.m. to 5 p.m. at St. Jerome's School, 255 W. Broad St., Tamaqua, and two other locations: Hazleton General Hospital, O & E Building, 1st Floor, 700 E. Broad St., Hazleton; and Schuylkill Mall, Community Meeting Room, Route 61 & I-81, Frackville
Results of the test will be mailed to participants in about 4-6 weeks and all results will be kept confidential.
Those who weren't able to register for the tests offered this week will be offered an opportunity in the second round of testing in the fall.
To be added to the list for the fall testing, area residents can leave their contact information at 1-877-525-4860.
According to reports, the PV blood disorder is being found with alarming frequency in the region. PV is characterized by a thickening of the blood and related complications. Statistically, it is expected to appear in one or two people per 100,000 population.
However, in one local neighborhood, multiple cases were found along one single street, including two cases in the same household. The cause is unclear at this point, although many say environmental contamination is the obvious culprit. Others point to human contact with formaldehyde used in foam insulation, and even the presence of radon in homes, as other suspected causes.
A report summarizing the results of the JAK2 testing will appear in the TIMES NEWS as soon as the information is made available.