2009.08.12 – Second round of PV testing announced
http://citizensvoice.com/news/second_round_of_pv_testing_announced
Second round of PV testing announced
Published: August 12, 2009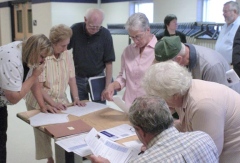 BLAINE FALKENA / TIMES-SHAMROCK Area residents pick up information about polycythemia vera before a July meeting about the disease at Tamaqua Area High School.
Due to the greater-than-expected response, the federal Agency for Toxic Substances and Disease Registry will schedule appointments for a second round of JAK2 screening through Friday.
The second round of tests, to take place in the fall, was scheduled after all of the available appointments in August had been filled. Residents of Carbon, Luzerne and Schuylkill counties should call 1-877-525-4860 by Friday to schedule a fall appointment for a JAK2 screening.
In early July, ATSDR announced the agency would make free JAK2 testing available to local residents after earlier surveys had found a higher-than-expected number of cases of the blood disorder polycythemia vera in the tri-county area.
The JAK2 genetic mutation is known to be present in more than 95 percent of PV patients. Currently, experts do not know if the JAK2 mutation always leads to PV or other blood diseases, nor do they know how long it takes after the mutation first appears for PV to develop.
Once the two rounds of JAK2 testing are completed, ATSDR will contact those who were tested to provide them with their test results. ATSDR will also review all of the test findings to determine whether additional rounds of testing are needed.
If ATSDR determines that JAK2 testing should continue, the agency will work with state and local health officials to ensure the community is informed about the testing.
Residents with comments or questions about the JAK2 screening or other PV research projects should call ATSDR toll-free at 1-866-448-0242.