2009.10.25 – Residents turn to researchers hoping to find cause of cancer cluster
http://www.standardspeaker.com/news/residents_turn_to_researchers_hoping_to_find_cause_of_cancer_cluster
Residents turn to researchers hoping to find cause of cancer cluster
BY KELLY MONITZ (STAFF WRITER)
Published: October 25, 2009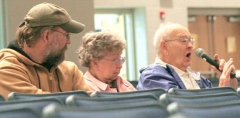 JAMIE PESOTINE/Staff Photographer Ed Skibiel of Minersville asks if he should be tested for polycythemia vera during a public meeting held by the U.S. Agency for Toxic Substances and Disease Registry at Tamaqua Area High School on Saturday.
People from Luzerne, Carbon and Schuylkill counties learned Saturday how the federal government will use $5.5 million set aside to study a rare blood cancer cluster and how they can get involved in a community group linking them to researchers.
The U.S. Agency for Toxic Substances and Disease Registry will be the oversight agency for the study groups looking at polycythemia vera, or PV, a rare blood disorder which causes bone marrow to make too many red blood cells.
People with the disease often have few or no symptoms, but are prone to develop blood clots and are at increased risk for heart attack or stroke, according to the information provided by ATSDR.
A study found clusters of PV cases along Ben Titus Road in Rush Township between Hazleton and Tamaqua, south of Frackville and near Jim Thorpe, and much of the research will be conducted in the tri-county area.
About 30 people who live in those areas came to Tamaqua Area High School on Saturday morning seeking more information on PV and its causes, but researchers didn't have the answers – yet.
ATSDR's Vince Seaman explained that pinpointing a cause is challenging, and pointed to a number of potential causes, including environmental exposures, heredity, something random, or some other unknown element.
People also wanted to know the latest on blood testing for the mutation of the JAK2 gene, which is present in 95 percent of PV cases.
Researchers, however, do not want to publicly release results of the first round of testing until the second round, currently under way and expected to continue through Nov. 2, is completed and the results examined, Seaman said.
"We won't know what that means right away," he said. "No one has done JAK2 testing on a community."
Researchers hope the blood tests and other tests, including those on environmental factors, will produce answers, Seaman said.
A group from the Mount Sinai School of Medicine headed by Dr. Ron Hoffman will do a gene profiling analysis and cytogenetic study of cluster-area PV patients and toxicological testing of bone marrow stem cells.
Basically, researchers will examine genetic factors and toxic compounds that could cause a PV cluster, Seaman said.
Other researchers will develop a tissue bank to look at the biomolecular aspects with Hoffman, researcher Rona Weinberg and Hazleton oncologist Dr. Paul Roda.
Violet Skibiel of Minersville, who has been diagnosed with PV, asked researchers what caused her gene to mutate and if her son's and husband's cancers could be linked.
Roda encouraged Skibiel to participate in the tissue bank sampling to help researchers find the answers.
Hoffman agreed the area has undergone numerous environmental insults, but noted that it's hard to pinpoint just one that could cause PV. Researchers haven't previously linked environmental facts to PV, and it's a new way to think about this disease, he said.
Skibiel's husband, Ed, asked if PV could be inherited or run in families, and if he should be tested, too, since he has leukemia.
Hoffman said researchers have no hint as to whether it's an inherited disease, but there are 300 families known in the world who have multiple generations affected, and research is continuing.
Another doctor said the diseases are unrelated, but not all researchers agreed and as such, Seaman told Ed Skibiel to consider being tested.
Pat Tracy told the panel that everyone knows toxic waste had been dumped throughout the area, and Diversified Metals in Hometown and McAdoo Associates in Kline Township are among the known hazardous waste sites.
"We have taken notice," Seaman said. "We believe there is a problem here. We're on your side in this. I encourage you to get involved in the community group."
The Skibiels' son, who works at a co-generation plant, also was encouraged to join the fledgling Community Action Group after making a statement about toxins dumped in the area.
The community group will work with its own experts, share information with researchers and ensure patients and families get care, said Henry "Hank" Cole of Henry S. Cole & Associates, an environmental consulting firm that will work with residents.
The first meeting of the group will be Wednesday at 7:30 p.m. at the Hometown Fire Co. hall. Joe Murphy is the group's local representative, Cole said, and a team of experts already has been established including specialists in epidemiology, hydrogeology, hazardous waste sites and air.
This group will work with researchers and investigators, including those from the state Department of Environmental Protection, which will be sampling water flow from the McAdoo Associates site and testing wells in the area.
The state Department of Health will continue to watch the number of cases of PV, which appears to be on the decline, Seaman said. The department also is working to update the state cancer registry to ensure accurate reporting and is working with the University of Pittsburgh on a comparative study.
The Geisinger Clinic will also study cases and patterns, work on local physician education, do JAK2 positive follow-ups and a JAK2 prevalence study, sampling a control group from the Danville and Milton areas.
A team from Drexel University, headed by Dr. Arthur Frank and project manager Carol Ann Davis, formerly with the federal Environmental Protection Agency, will do a case control study, hoping to identify risk factors.
Seaman noted that the ATSDR had less than four months to allocate the $5.5 million provided through U.S. Sen. Arlen Specter, D-Pa., specifically for PV research.
Dr. Peter Baddick, a local physician, asked if the funding was adequate. The funding, it was noted, would be enough to get these years-long projects started.
After more than two hours, a woman who lives along Ben Titus Road and wished not to be identified, criticized the presentation.
"I always leave these meetings disheartened," she said. "I know nothing more than I did. I have no answers. We don't understand half of this."
Neither she nor her husband has PV, but she wondered about her neighbors who do.
"What's going to happen to them?" she asked.
After the formal session, a number of researchers approached the couple.
kmonitz@standardspeaker.com